In March 2005 Andrew Davidson and Alun Jones attended the London recording of 'An Evening With Kevin Smith 2: Evening Harder', the follow up to the hugely successful 'An Evening With Kevin Smith'.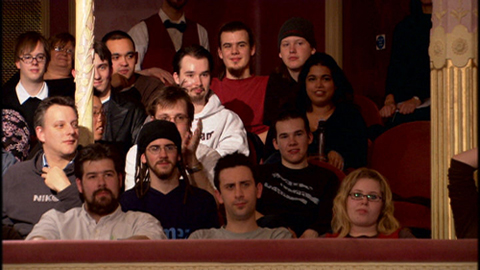 Finally, in December 2006 the DVD was released across the world and due to the girl sat next to Andrew asking a question that takes up two chapters on the disc (for easy access go to the chapter named 'Night Swimming') both feature well on the disc. Andrew was even shameless enough to attend wearing a self-promoting 'Quondam' hoodie.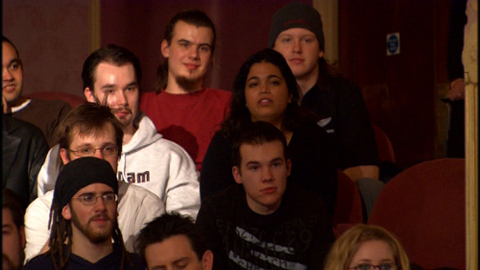 The 2-disc DVD set it split between a session filmed in Toronto (back in 2004) on the first disc, and the London show on the second. Unlike the first 'Evening With' DVD that cut between five college locations, this set has the two shows on separate discs. Like it or hate it, this way does give you a better feel for the momentum of Kevin's Q&A shows.
Andrew had asked a question about the Clerks Animated movie, but the same question (excluding the comments about smoking monkeys and the kid in the helmet) was asked on the Toronto disc, so sadly his moment in the spotlight was cut from the disc. Though there are plenty of laughter shots.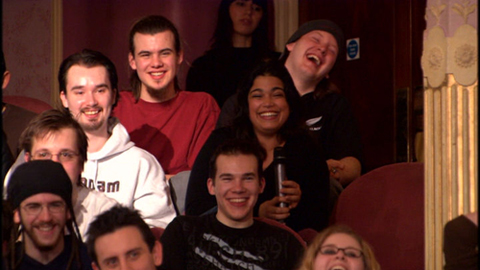 So whether you are a fan of Kevin Smith and his hilariously frank discussions of his life, films and Hollywood, or just want to play 'Spot Alun and Andrew' for a couple of hours of your life, you could do far worse than checking out 'An Evening With Kevin Smith 2'.