In 2004 Last ATAK Pictures released Quondam on DVD with nearly two hours of bonus material. Last ATAK Pictures is proud to announce a brand new DVD featuring the short films LiMBO and Autumn Heart in a Special Edition 2 Film DVD Set.
Both films have been remastered for this new release and the set comes with a host of special features.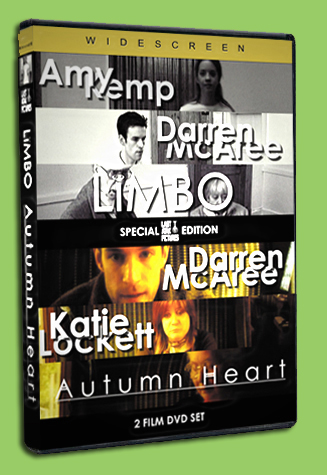 LiMBO, the first production by the company made in 2002, stars Amy Kemp as angel in training Angelica and Darren McAree as Warner Roberts. Included with the 7 minute Director's Cut of the film are two commentaries:
2002 Commentary by writers Andrew Davidson and Katherine Reeve
2005 Commentary by star Darren McAree and director Andrew Davidson
Autumn Heart was produced in 2003 and starred Darren McAree as James Hadley and Katie Lockett as the mysterious Lara. The Extended Edition of the film also includes two commentary tracks:
2003 Commentary by Andrew Davidson and Katherine Reeve

2005 Commentary by Darren McAree and Andrew Davidson
Other features expected to be included on the disc are Gag Reels for both films, an Untitled Short Story read by Darren McAree, two drafts of the Autumn Heart screenplay and a special brand new documentary called 'From LiMBO to The Musicals'. The documentary features brand new interviews recorded with Darren McAree, Katherine Reeve, Andrew Davidson and composer Steven Coltart as well as cast and crew from The Musicals and includes never before seen behind the scenes footage from the making of the films. It promises to be the most comprehensive look to date at the life of Last ATAK Pictures and the making of LiMBO, Autumn Heart, Quondam and offers an exclusive glimpse at the development of The Musicals.
The DVD set has been designed with the Quondam DVD in mind and will compliment the other release perfectly on any collectors shelf. On release the LiMBO/Autumn Heart DVD will also be available as a special cut price twin-pack with Quondam, allowing both discs to be bought for less than half-price each.
There is currently no definite release date for the DVD, but plans are to have the set out in early summer 2005. Check back at lastatak.com regularly for updates, as well as the final part of our 'Making The DVD' series, which will explore the creation of this new DVD.