A brief exploration of LiMBO
by Writer/Director Andrew Davidson (10/4/03)
When we started work on LiMBO in early 2002 some of the group knew each other and some didn't, yet we all had the same goal in mind: make a film, and make it well. Memory doesn't serve so well 14 months on, so the exact how's and whys to the way that the jobs were distributed illudes me, yet be it because I had directed before or because I'm pushy I don't know, but I got to be in charge of the project.
The story came to us very easily, possibly too easily compared to the trouble we would have making 'Autumn Heart' and was roughed out within the first week of production in February 2002. This was before Pamela and Lisa had joined the group. In the early days it was Angela, Tom, Kati and I. Tom and Angela expressed no desire to write the script so Kati and myself were the scribes. I guess you could say we were ambitious. For a five minute film, our script ran to about ten pages (which would be just over ten minutes of screen time) and was packed with characters, jokes, themes and God. Oh the blasphemy! But Katherine is Catholic and she wrote it, so I think we're covered in the eyes of the smiting one.
There was too much though. In the final, FINAL cut - which runs at six and a half minutes - one character and two pages are absent. The character, played by Katherine Reeve was cut mostly because Kati wasn't happy and also because it was just one person too many. The two pages, which were really the 'point' of the script were lost because we just didn't have the time at the location to film them, nor in fact as I remember did we have anyone to play the part of the tea lady. We had tried to infuse the script with some sort of theme or rationale so that there was more depth to it. We were exploring, though comedic, the nature of choice and how those decisions effects those around us. We were looking at acceptance and forgiveness. Much of this remains in the finished film, though sadly not enough I fear for people to really get it.
The strongest aspect of the finished product is it's look and humour. It was the first professional product that we had made, and as such was a great achievement for us, though we are capable of creating much more now. The film flits back and forth between a waiting room and the judgment office in purgatory which we'd represented as a business. My favourite location is the waiting room. We worked wonders turning that from an office cum bedroom into what looks believably like a waiting room. We wanted to make it sterile, boring and nondescript.
We were very lucky with our casting. I'll talk about Darren and Amy in a moment. Let me just talk briefly about George and Jackie who can be seen in this picture.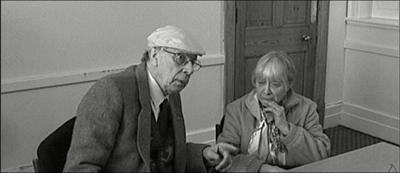 They were incredible, not only because they were working for free with a group of people who were clearly making up what they were doing (something I've since stopped doing), but they did it with such energy. The one thing that most people comment on is where we got them. There's a stigma attached to student film making that makes people believe that student films contain nothing but twenty-somethings, focus on drugs and death and usually have crazy editing. I was determined to not conform to those stereotypes and purposefully sought elder actors to be in the film.
To fill out our twenty-something quota we had Darren McAree and Amy Kemp. I had known Amy from school and had always promised to put her in the first film that I directed, so to honour that promise I dragged her away from University and stuck her as the central character in the film. Ain't that great?! As for Mr McAree, we met in March of 2002 at a mutual friends birthday party and had drunkenly exchanged numbers after I'd promised to put him in the film. Weeks later I got someone else (tee hee) to phone and make arrangements for him to play the part of Warner Roberts a character that he made so much his own and made funnier and better than written that the character of James Hadley in 'Autumn Heart' was written especially for him.
Looking back I'm surprised at how much we got done in such little time. The production time for LiMBO was three and a half months, which is half that of 'Autumn Heart'. Granted 'Autumn Heart' is twice the running time of 'LiMBO', just having so much longer makes you feel that you're not working as much.
LiMBO was a great learning tool. One that I'm proud of. From a script to the screen we created something that will last forever, it may never be seen by many people, but it's out there and we made it. It's a time in my life that I will always look back on fondly.