Mark Allen is perhaps not the most recognizable name associated to Last ATAK Pictures, yet his contribution to the company's productions is invaluable. As a trained paramedic, Mark was first employed on the set of Autumn Heart in a health and safety capacity, but soon became an silent extra, and then was given lines. Since then he has appeared in Quondam and is slated to appear in The Musicals. As a production runner, he is a key and popular figure in the making of the films, he talks now for the first time about his involvement in the company and his take on it's productions.
You worked on Autumn Heart, Quondam and are on the crew for The Musicals, how did you first come to work with Last ATAK Pictures? Had you seen LiMBO before becoming involved?
No I hadn't seen Limbo before I got involved with Last ATAK but since working with the team, I had to see it.
How did you find the process of working on Autumn Heart?
Autumn Heart was the first time I had ever been involved on any kind of set, let alone a film set and being one of the actors on it!!!
You were also cast in small roles in the films, is acting a great love of yours or was it a favour?
At first I was involved as a favour as the crew needed a medical person on set, because I worked with Andy he asked if i would come along to the set, then he asked if i could do a small part for him and the rest as they say is history.
What are your strongest memories of working on Autumn Heart?
Just the laughs that we had, it was great to see such a young group of people being so professional about the project.
After the completion of Autumn Heart, what did you think of the finished product?
I thought it was excellent, it was weird seeing it all first hand as it was being done, but once its all put together it seems like a different film, a good different film!
You also attended many of the film's screenings, and the awards night, what did you make of the audience reaction to the film?
The audience reaction always seemed to be appreciative. I think the films are easy to understand and can be appreciated by all ages.
After the experience of Autumn Heart, were you all to happy to work on Quondam? How did that experience differ?
I was more than happy to be involved with Quondam, in fact I would have been gutted had they not asked me!!! The experience did not differ much, apart from a lot of new faces, but the professionalism was still there.
Quondam is a darker, grittier tale, was there a different feeling on set than on Autumn Heart?
I think there was, there was a lot of anticipation as we waited to see the demon after make up because Andy would not say anything about it or let anybody into the make up room while it was done.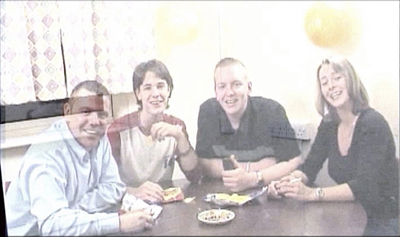 You also attended many of the screenings of Quondam, is that something that you feel is important for you to do? Do you enjoy seeing the films with an audience?
I feel that if I'm involved in a film then its only right that I go along for the premiere, its always strange to see yourself on a screen. You never know people might recognize you and want an autograph!!!
You had been cast in a small role in The Musicals, how does that project differ from Autumn Heart of Quondam.
It appears at first hand to be a much bigger project than any of the other films. It will be an exciting experience to be involved with something on this scale.
The films you've worked on seem to connect well with audiences, Autumn Heart is very emotional and Quondam can be uncomfortable to watch. What do you attribute the success of the films to? and why?
I think people can all relate to the characters on the screen, in Autumn Heart James Hadley is a character who is running away from something, i think most people have felt like that at some stage.
If you had to sum up your experience with Last ATAK Pictures with one word, what would it be?
Smooth
And to sum it up in a sentence?
It is smooth