Ben Brennan is the star of Robbie Graham's The Silent Voice and has recently been cast in Last ATAK Pictures feature film project The Musicals, which has been subject to unfortunate delays.
lastatak.com caught up with Ben to ask him about the past, present and future of such a talented actor.
Your first work with Last ATAK Pictures was on Robbie Graham's The Silent Voice in 2002, how did you come to be cast in the project?
I'd been looking to get started with some acting after University and was talking to a friend who is a member of the Stafford Players. She told me about some guys who were looking for people for their film. The auditions were held and the rest is obvious.
Who did you play? Can you tell us a little about the character and his story?
I was Steven Jacobs. Because it was a short film I think the character was established really well. He is shy, intelligent and uses his love of poetry to speak to people's hearts. I like to think he had a back story where we was a ultra cool private-eye pretending to be a student. Kind of like Fletch. But I think I'm the only one that thought that.
Your character had a lot, like A LOT, of poetry to read, were you comfortable with it all?
To show just how comfortable I was with the poetry:
Learing poetry is cool,
It's a really fun thing to do,
But I'll be quite thick,
With the limericks,
I learn for Silent Voice 2.
What are your memories of the shoot?
Spaniards ... Lots of Spaniards, A wheel chair, "What, this book?"- my QVC moment.
What is your favourite moment or scene from the film?
I love the montage at the end. It's so ... 'Rocky'! But seriously I do think the montage helps convey a lot of information very quickly. That Steven reads and helps a lot of people.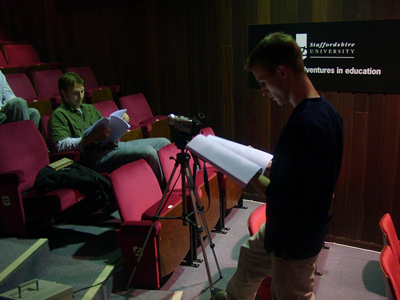 It was a couple of years later when Andrew Davidson contacted you about The Musicals, what was you initial reaction to the project? Had you kept up with what Last ATAK Pictures were doing after The Silent Voice?
Yeah I did keep up with Last ATAK. I often visited the website and kept up to date with the productions. Saw the trailer for Quondam but still haven't seen the full film. My initial contact with Last ATAK was awesome. I was literally buzzing after I spoke to Andy. Then when I actually got to read the script I was very excited. The Judah stuff translted really well and was actually funnier aloud.
Nearly a year ago you took part in a script read, being the first time you had read the script and seen how the story worked, what was your immediate reaction?
I really enjoyed hearing the script aloud and bouncing the lines off real people. It was very funny.
You play the leading role of Tim Luther in The Musicals, can you tell us a little about the character and what he is going through in the film?
Again Tim's a bit like Steven. He's very much dominated by his girlfriend but at the same time keeps his true feeling hidden. The refreshing thing is that it is lighter than Silent Voice which means I get to do a bit of comedy - which I love. I've done stand-up for a couple of years now and so comedy is really my centrifugal force.
A few months after the script read you were involved in the teaser trailer shoot, how did you find the experience? Do the memories of the shoot make the fact that the actual film hasn't happened yet a harder pill to swallow?
It's fantastic to have something to show for our efforts and it really sets the tone of the movie. I am gutted that it might not go ahead as the shoot was a real blast!
There is some doubt as to whether The Musicals will be happening as soon as was planned, if you had the opportunity to plead in the film's defence to acquire it's funding, what would you say to potential financiers?
Apart from telling them that I'll be their best friend AND they can come to my party, I'd say this is one of the most original ideas I have come across. It operates on so many levels and refuses to pigeonhole itself as any genre that there is appeal to a huge amount of people
If you could have been in one other Last ATAK Pictures film, which would it be and why?
I really love the idea behind Limbo. I think being in that would have been something special.